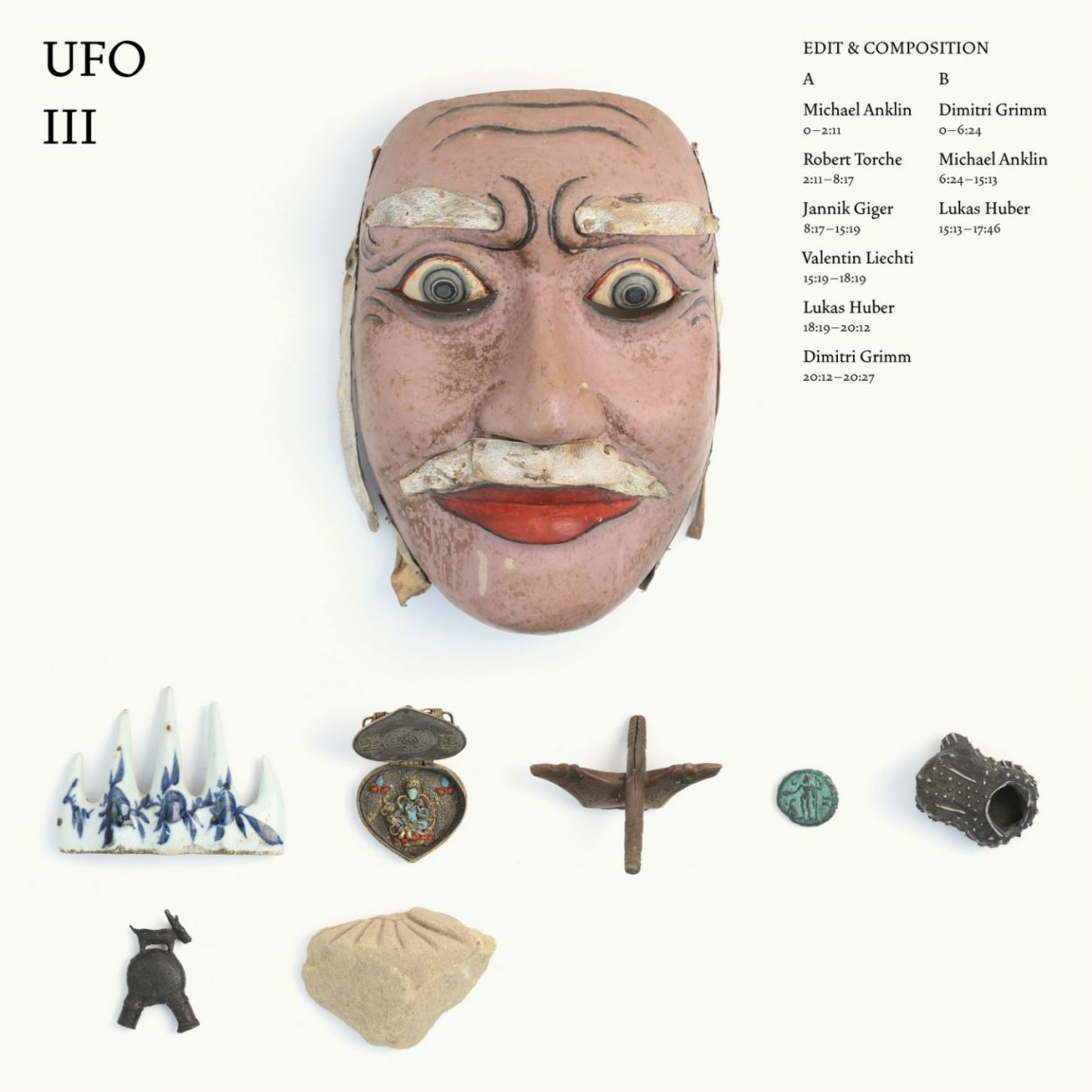 «We don't simply explore the limits of free improvisation, we frequently break them.»
Free improvisation trio UFO is releasing its second album, III, which combines the moment of live performance with concept and composition. Produced under the supervision of Dimitri «Dimlite» Grimm, the result blends musique concrète with noise and more dance-oriented genres.
Based on five free improvisation sessions the duo UFO around Lukas Huber and Michael Anklin pushes the limits of the term. Five sessions with a guest musician each are the root of the resulting ten tracks that emerged from the hands of the arrangers that the rough material was handed to. Finalized by electronic music producer Dimlite the album «III» covers experimental to contemporary classical and electronic sounds. Expect string arrangements next to acid bass lines.
Performers
Lukas Huber – keys, electronics / Michael Anklin – drums, percussion / Fred Frith – guitar / Robert Torche – modified tennis ball / Jannik Giger – electronics, piano / Raphael Rossé – trombone, sheng / Martin Wyss – double bass / Adrien Guerne – saxophone, electronics
Arrangers
Dimitri Grimm «Dimlite» – electronic music producer / Jannik Giger – composer, video artist / Valentin Liechti – drummer electronic music producer / Robert Torche – electronic music producer / Michael Anklin – drummer, electronic music producer / Lukas Huber – composer, media artist
«There's nothing more gratifying then getting a release that feels both foreign and intriguing» – Lodown Magazine
«A monster of experimental / contemporary music» – Brooklyn Radio
«Music that challenges the well treaded paths» – Fame Magazine
«III gloriously embraces the idea of freedom» – Colorising
«A new mode of hearing and a completely new sonic universe is suddenly unlocked.» – Stereo Embers
«aufregend» – Loop